[[File: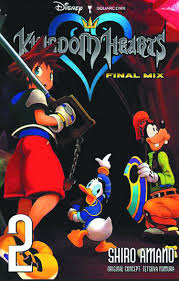 |250px|Kingdom Hearts Final Mix Volume 2]]
Kingdom Hearts Final Mix Volume 2
Publication
Kingdom Hearts Final Mix Vol. 2 is the second and final installment in the rerelease of the original Kingdom Hearts series, collecting volumes three and four.
Back Cover Synopsis
Edit
Worlds collide as Sora, Donald, and Goofy continue their quest to save the universe from darkness and reunite with their friends! Whereever the trio goes, the Heartless seem to follow, manipulated from the shadows by powerful villains. But while his enemies seem to be no match for Sora's heart or his Keyblade, the Heartless aren't the only ones Sora has to worry about...because before he can find his friends, one of them unexpectedly finds him! With Riku now playing for the dark side, will Sora succeed in saving him, Kairi, and Kingdom Hearts?!
Episodes Included
Edit
Characters
Edit
Main Characters
Edit